Contact
COVID-19 Related Products
Views:1181 Add time:2020-03-16 17:15:40
Coronavirus disease 2019 (COVID-19) is an infectious disease caused by severe acute respiratory syndrome coronavirus 2 (SARS coronavirus 2 or SARS-CoV-2), a virus closely related to the SARS virus.

What is The Coronavirus?
Before introducing the SARS-CoV-2, let us understand what is a coronavirus. Coronaviruses are a large family of viruses that can cause respiratory illnesses such as the common cold. Almost everyone gets infected with coronaviruses at least once in their life, but symptoms are typically mild to moderate. Most coronaviruses are not dangerous, but some are. Those that cause Middle East respiratory syndrome (MERS) or severe acute respiratory syndrome (SARS) can be deadly.

As the Figure 1 shows, coronaviruses are viruses that are spherical, have protrusions, and are crown-like. They are collectively referred to as coronaviruses. The virus has a diameter of 75 to 160 nanometers, and the virus genome is a continuous linear single-stranded RNA, and the molecular weight is usually (5.5 to 6.1) x106.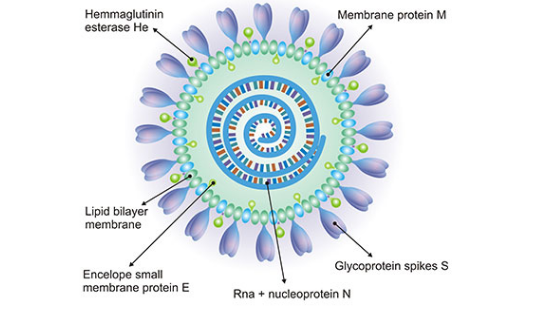 Figure 1. The Typical Structure of Coronavirus
The coronavirus genome encodes a spike protein (S), an envelope protein, a membrane protein, and a nucleoprotein in this order. Among them, spike protein is the most important surface membrane protein of coronavirus.
1. SARS-CoV-2 N protein
Catalog Number: CSB-DP701B
Product Name: SARS-CoV-2 coronavirus nucleocapsid protein (N protein)
Expression system: E. coli ;prokaryotic expression
Sequence Description: Full Length 1-419
Protein Tag: His-tag
Purity:90%±5% by SDS-PAGE
MolecularMass:47 kDa
Valid Period:-20 ℃for 18 months
Lead Time:3-5 business days
2. SARS-CoV-2 S1 protein
Catalog Number: CSB-DP702I
Product Name: SARS-CoV-2 coronavirus spike glycoprotein S1 (S1 protein)
Expression system:Mammalian; eukaryotic expression;
Sequence Description: Full Length 14-685
Protein Tag: His-tag
Purity:90%±5% by SDS-PAGE
MolecularMass:76 kDa
Valid Period:-20 ℃for 18 months
Lead Time:3-5 business days
3. SARS-CoV-2 S-RBD protein
Catalog Number: CSB-DP703I

Product Name: SARS-CoV-2 coronavirus spike glycoprotein RBD (RBD protein)
Expression system:HEK293 Cells
Protein Tag:His-tag
Purity:90%±5% by SDS-PAGE
4. N-IgG Chimeric Antibody
Catalog Number: CSB-DA493HmN

Product Name: SARS-CoV-2 Nucleocapsid sFv,hIgG-Fc Chimeric Antibody
Expression system:Recombinant
Protein Tag:Human IgG1 Fc
Purity:90%±5% by SDS-PAGE
Application:Calibrator or controls, for research use only
5. S1-IgG Chimeric Antibody
Catalog Number: CSB-DA494HmN

Product Name: SARS-CoV-2 Spike S1 sFv, hIgG-Fc Chimeric Antibody
Expression system::Recombinant
Protein Tag:Human IgG1 Fc
Purity:90%±5% by SDS-PAGE
Application:Calibrator or controls, for research use only